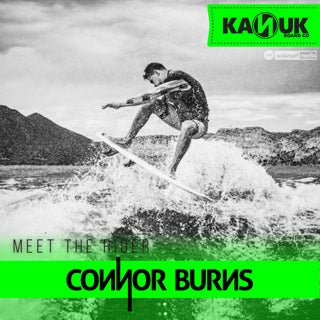 Division: Pro
Board: Burnsy Pro
Stance: Regular
Instagram: https://www.instagram.com/connorburns/
Accomplishments
Undefeated 2016 Amateur Year
2016 Amateur World Champion
2016 Ranked #1 Amateur
2017 3rd place Arizona
2017 2nd place Washington
2017 3rd place Canadian Nationals
2017 2nd place US Nationals
2017 4th place World Wakesurf Championship

1) Where are you from? Arizona
2) How long have you been wakesurfing? Since the summer of 2015
3) What boat do you mostly ride behind? Nautique G23
4) Do you remember the first time you experienced wakesurfing and if it was love at first sight or did it take time to like it? It was love at first sight! I always wanted to keep going out on my dad's friend's boat so we just got our own!
5) What was the first trick you landed and how long did it take to get it? My first big trick I landed was the 360 and it took a few months of trying to get it.
6) What trick would you most like to learn? I'm working on some secret stuff right now so maybe you'll find out!
7) What's your favourite lake to ride on?  Lake Pleasant
8) If you could surf with any two people you don't normally ride with who would they be? Anyone better with me so I could learn from them.
9) Of all the countries you've never been to, which one would you most like to visit for a wake surf competition? One with super clear water! That would be super cool
10) Favorite foods? Cheeseburgers!
11) Favorite movies? The Purge
12) If you were stranded on an island what 3 things would you bring? A hammock, food, and a surfboard (hopefully there are waves)
13) Who do you admire the most?  Parents because they are the hardest workers
14) Wake up for glass or sleep in and take a chance? Wake up for glass 110%
15) What is one thing that annoys you the most? Teachers that are difficult to deal with when you miss a few days to surf
16) Describe yourself in 3 words. Hard-working, dedicated, goal-oriented
17) What is your biggest addiction besides wakesurfing? Drawing
18) Favorite TV show?  Impractical Jokers
19) Iphone or Android? Iphone
20) Tell us something about you that people likely don't know. I hate spiders
21) What do you like most about Kanuk and why do you ride for them? They make the best custom boards and have the coolest and most fun team to be a part of!
---