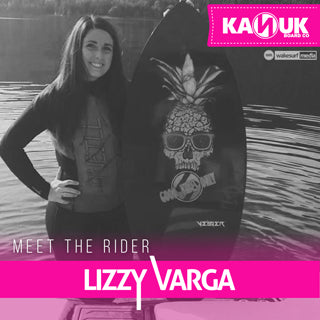 Division: Amateur
Board: Vedder
Stance: Regular
 Instagram: https://www.instagram.com/lizzyvarga/?hl=en
Accomplishments: 2nd place in Am Female skim at wakshredder throw down 2017
1) Where are you from? Chilliwack, BC
2) How long have you been wakesurfing? 4 years
3) What boat do you mostly ride behind? Supreme S226
4) Do you remember the first time you experienced wakesurfing and if it was love at first sight or did it take time to like it? My first time wakesurfing was also when I first met Codey Inman, he taught me even though he was a beginner as well and of course he makes everything look easy.. but wakesurfing was love at first sight easily
5) What was the first trick you landed and how long did it take to get it? That dang 360!!! 2 full years of about 2000 tries lol
6) What trick would you most like to learn?Switch big spin
7) What's your favourite lake to ride on? Cultus Lake, BC
8) If you could surf with any two people you don't normally ride with who would they be? That's a hard one.. probably all the Kanuk family who doesn't live in our cultus lake surf community
9) Of all the countries you've never been to, which one would you most like to visit for a wake surf competition? Japan
10) Favorite foods? Stir fry - all kinds
11) Favorite movies? Bridesmaids
12) If you were stranded on an island what 3 things would you bring? My dog Molly, Codey Inman and a cribboard to pass by time
13) Who do you admire the most? My mother and my sisters
14) Wake up for glass or sleep in and take a chance? Wake up for glass!!!
15) What is one thing that annoys you the most? TUBERS!!!
16) Describe yourself in 3 words. Adventurous, optimistic and courageous
17) What is your biggest addiction besides wakesurfing? Snowboarding and snowskating
18) Favorite TV show? How I met your mother and the office are tied for first
19) Iphone or Android? Iphone
20) Tell us something about you that people likely don't know. I grew up fishing and sailing and I'm Hungarian
21) What do you like most about Kanuk and why do you ride for them? They are local, my surf family and the most rad group ever!
---