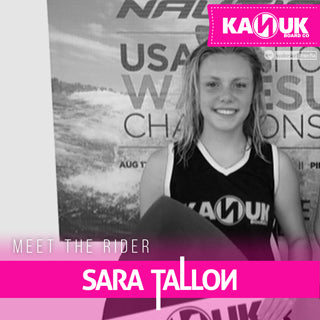 Division: Outlaw
Board: Blunt & Gia
Stance: Regular
 Instagram: https://www.instagram.com/saratallon_/
Accomplishments: My biggest accomplishment so far is winning worlds in Amateur Women's Skim and coming second in Amateur Women's Surf
1) Where are you from? Sylvan lake , Alberta
2) How long have you been wakesurfing? About 4 years
3) What boat do you mostly ride behind? G23
4) Do you remember the first time you experienced wakesurfing and if it was love at first sight or did it take time to like it? It took me a while to even try surfing but once I was able to stand up and drop the rope I loved it.
5) What was the first trick you landed and how long did it take to get it? It took me all summer but the first trick I ever landed was a 360
6) What trick would you most like to learn? Gumbi shuv
7) What's your favourite lake to ride on? My favorite lake to ride on is Koocanusa
8) If you could surf with any two people you don't normally ride with who would they be? Jodi Grassman and Taylor Dorey
9) Of all the countries you've never been to, which one would you most like to visit for a wake surf competition? If I could go to a country I've never been to for a competition I would go to France
10) Favorite foods? Chicken wings
11) Favorite movies? Elf
12) If you were stranded on an island what 3 things would you bring? If I was stranded on an island I would bring food, water and flashlight
13) Who do you admire the most? I admire my parents for everything they do and provide for me to become a better surfer.
14) Wake up for glass or sleep in and take a chance? Defintley the glass
15) What is one thing that annoys you the most? Tubers on calm water
16) Describe yourself in 3 words. Competitive, fun and friendly
17) What is your biggest addiction besides wakesurfing? Snowboarding in the winter would be my biggest addiction.
18) Favorite TV show? Riverdale
19) Iphone or Android? Iphone
20) Tell us something about you that people likely don't know. I played competitive hockey for a very long time
21) What do you like most about Kanuk and why do you ride for them? What I love most about Kanuk is as a new board company they have accomplished so much this year, and they are always willing to get feedback on any product. I ride for them because the team feels like a family and I always feel like they help and support me.
---