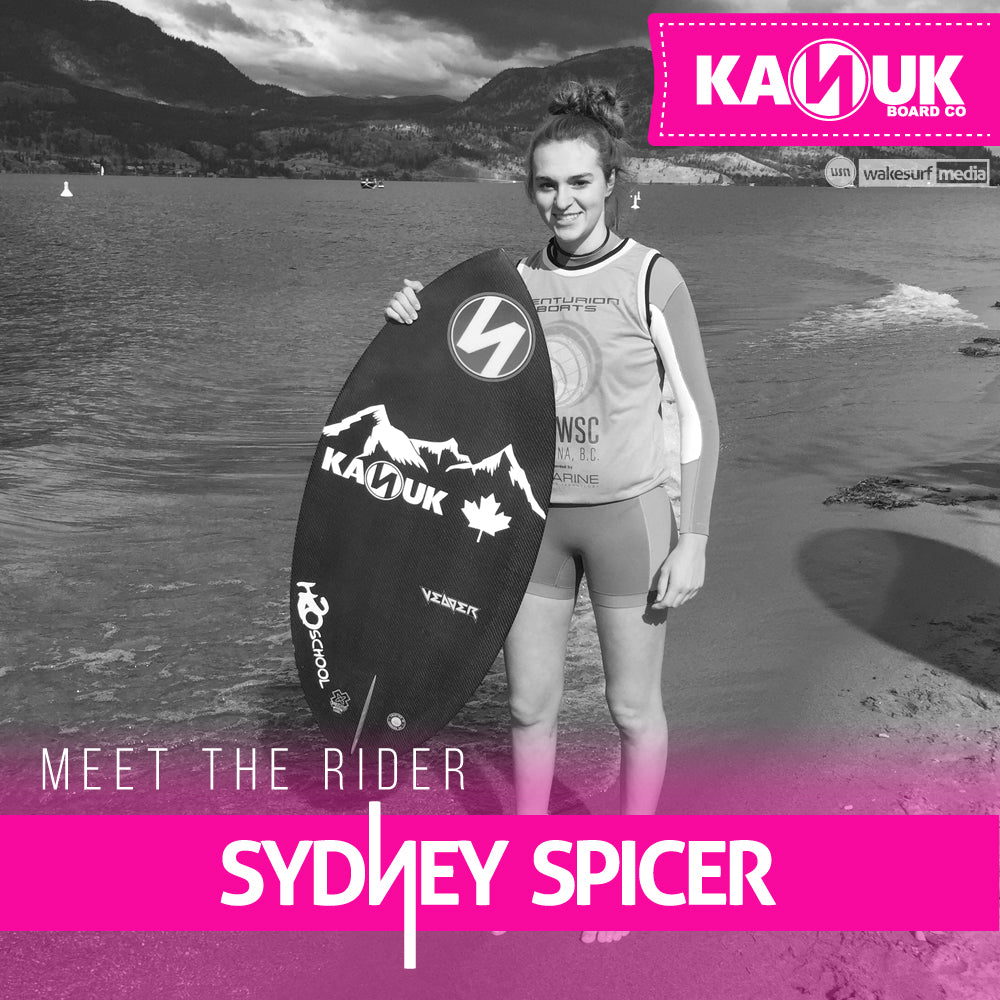 Division: Outlaw
Board: Vedder 
Stance: Regular
Instagram: https://www.instagram.com/sydneyspicerr/?hl=en
Accomplishments: World Wakesurf championship 2017- 3rd place women amateur skim
1) Where are you from? Calgary, AB
2) How long have you been wakesurfing? 5 Years
3) What boat do you mostly ride behind? 2017 Centurion ri217
4) Do you remember the first time you experienced wakesurfing and if it was love at first sight or did it take time to like it? It took me some time to like the sport after the first time I learnt how to wake surf
5) What was the first trick you landed and how long did it take to get it? My first trick was a 360, it took me almost the whole summer of 2014 to finally get it
6) What trick would you most like to learn? 3 shuv
7) What's your favourite lake to ride on? Koocanusa, BC
8) If you could surf with any two people you don't normally ride with who would they be? Ashley Kidd and Jodi Grassman
9) Of all the countries you've never been to, which one would you most like to visit for a wake surf competition? Out of all countries I've never been to, I would like to visit Brazil for a surf competition
10) Favorite foods? Steak and mashed potatos
11) Favorite movies? The longest ride
12) If you were stranded on an island what 3 things would you bring? If I was stranded on an island I would bring a knife, water, and mirror.
13) Who do you admire the most? My parents because I wouldn't have anything I have now without them and they give me all their love and support for the sport.
14) Wake up for glass or sleep in and take a chance? Wake up for glass of course
15) What is one thing that annoys you the most? Tubers on glass days
16) Describe yourself in 3 words. Happy, outgoing and determined
17) What is your biggest addiction besides wakesurfing? My biggest addiction besides wake surfing is the game of hockey
18) Favorite TV show? Riverdale
19) Iphone or Android? Iphone
20) Tell us something about you that people likely don't know. Something most people don't know about me is I speak fluent french
21) What do you like most about Kanuk and why do you ride for them? The thing I like the most about Kanuk is the support they have behind all their riders, and their love for the sport. Kanuk is pushing each day to be the best board company which really shows the passion they have for the sport. I ride for Kanuk because it feels almost as if they are one big family and I feel supported at each event I compete in.
---